Christmas Season Menu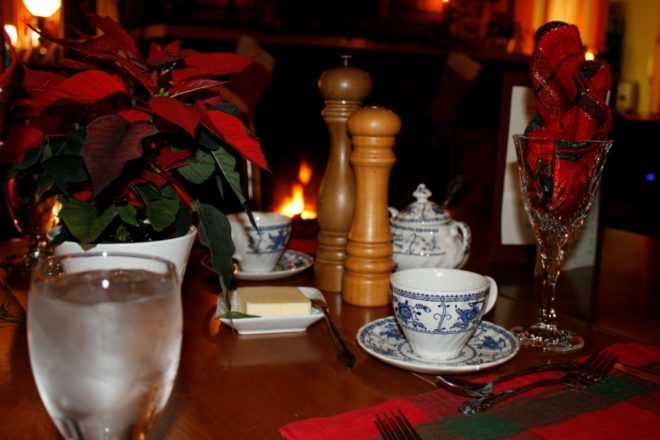 December 2nd-22nd, 2017
Serving Every Evening at 7:30 pm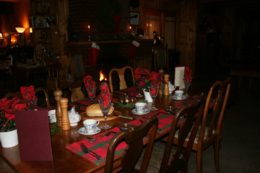 Advance reservations are required.
Cocktails and pre-dinner drinks are served at 7:00 pm.
.
Special 2017 Christmas Menu Rate is $50/person + HST
(The regular price for dinner is $55/person + HST)

Overnight package rates – dinner/room/hot breakfast
— from $120/person + HST based on dbl occupancy
— from $175/person + HST based on sgl occupancy
Call Mary at (902) 661-4800 to book or for more information .
Christmas Season Menu – 4 Courses
Soup – 1st
Purée of Roasted Carrot, Orange and Ginger
Finished with a swirl of sour cream, chopped parsley and a dash of cinnamon.
Fresh house-made bread is served with soup course
~ ~ ~
Salad – 2nd
Marinated Tomato Salad
Tomatoes, bell peppers and cucumber marinated in a honey and cider vinaigrette.
Served with crumbled feta cheese and scallions over a bed of assorted greens.
~ ~ ~
Main Courses – 3rd
Lobster Stuffed Sole Florentine
A fillet of sole stuffed with lobster and garlic infused spinach.
Finished with a seyval blanc cream.
-Or-
Prosciutto Wrapped Chicken With Apple and Cranberry
A breast of chicken stuffed with sautéed apples, thyme and Swiss cheese.
It is wrapped with prosciutto ham and served with a cranberry compote.
Sides of broccoli with tarragon butter, buttercup squash with brown sugar,
balsamic/maple glazed beets, and summer savory/garlic roasted potatoes.
~ ~ ~
Desserts – 4th
Chocolate Bavarian Cream Tart
Chocolate Bavarian cream with a chocolate crumb crust,
sweet cherries/cherry brandy sauce, whipped cream and chocolate shavings
-Or-
Rum & Raisin Cheesecake
with a warm buttered rum sauce, whipped cream and nutmeg.
Freshly brewed tea and Just Us Coffee are included.
They are served with the dessert course.
~ ~ ~