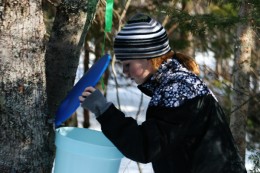 Come and join us at the Amherst Shore Country Inn. Enjoy a two night stay and a traditional maple experience.  We will be gathering maple sap with traditional buckets right here in the woods on our snowshoe trails. Then we will be boiling it down old school with a large cauldron over a crackling wood fire. That evening we will feature maple at dinner in each of the four courses (click to see maple menu) and of course at each breakfast.
 This package includes:
two nights' accommodation on Friday and Saturday (pick from a chalet, suite or guest room)
take a venture into the woods and check the sap buckets hanging from traditional spiles right here in our woodlot
then join us for an old fashioned maple boil as we make kettle cooked syrup over a crackling wood fire
snowshoes available and provided if needed
dinner for two featuring our sugaring off menu "Maple in Four Courses" for two at 7:30 pm (advance reservations required – served each Saturday Night during maple season)
a bottle of Nova Scotia Maple Ice Wine
an illustrated copy of 

Canadian Maple Syrup A Sweet Adventure

by Grayce Rogers to take home
directions to Dickinson Bros. Maple Products. Our local maple supplier for over 30 years.
hearty hot breakfast served at 8:00, 8:30 or 9:00 am each morning.  Wild blueberry pancakes one day, french toast the next.
Weekends
April 3 to April 12, 2015
Chalet
$439.00
Suite
$379.00
Guest Room
$339.00