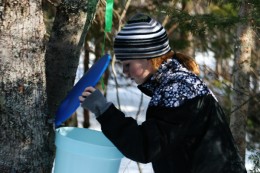 Enjoy an outstanding maple inspired dinner, sample maple cocktails.  It's truly a local food experience/getaway complete with a wild blueberry pancake breakfast.
Join us in the woods as we make "old school" kettle cooked syrup with a large cauldron over a crackling fire. (weather permitting)
Every Saturday evening in March features our Tribute to Maple Dinner.
Maple is a key ingredient/flavour in each of the four courses.
We also have maple cocktails, maple dessert wine and special coffees available.
It doesn't get much more local than maple syrup in the spring. (click to see maple menu)
Scroll down for full package details and rates.
 This package includes:
two nights accommodation on Friday and Saturday (pick from a chalet, suite or guest room)
directions to local producers,… Neil Ripley, Fenwick,…. Dickinson Bros. Maple Products, Westbrook
a venture on our woodland trails to check the sap buckets hanging from traditional spiles
– snowshoes are available and provided if needed
experience an old fashioned maple boil as we make kettle cooked syrup over a crackling wood fire
dinner for two featuring our Tribute to Maple menu "Maple in Four Courses"
– served at 7:30 pm Saturdays (advance reservations required)
hearty hot breakfast served at 8:00, 8:30 or 9:00 am each morning.
– wild blueberry pancakes one day, french toast from our housemade bread the next. mmm,..maple
two specialty maple cocktails -or- two specialty maple coffees
Please note: the woods activities are weather permitting and do depend on the sap running.
To book this package please call us direct at  1 (800) 661- 2724 or 1 (902) 661-4800.
Maple Package
----- Rates are for 2 persons for 2 nights-----
The Maple Dinner is served Saturday Evenings


Weekends March 2nd - March 31, 2018
Chalet
$439.00
Suite
$399.00
Room
$375.00
Rates do not include 15% HST (Harmonized Sales Tax)
Please note,…  we have one night packages as well which include the maple dinner. (click)