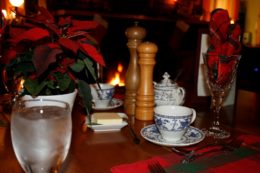 The inn is open every evening from December 2nd to December 22nd, 2017 for Christmas getaways and celebrations.
Please note:
There is no minimum table or party size during the Christmas Season but reservations are required.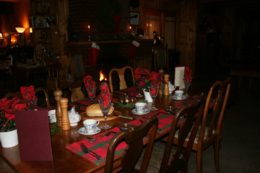 Click here for Christmas Season Menu,
dinner is $50/person for 4 courses.
(A Special Rate For Christmas)

Room/dinner/breakfast packages are available.
Rates do not include gratuities or 15% HST
Christmas Party/Getaway Rates
December 2nd 2017 to December 22nd 2017
**Christmas Special **
All Rooms, Chalets and Packages Sunday to Thursday are guest room rate.

Accommodation
Only
Single Occupancy-1 person/room
with dinner and breakfast
Double Occupancy-2 person/room
with dinner and breakfast
Chalet
$159/$125 **
$210/$175 **
$275/$240 **

Suite
$135/$125 **
$185/$175 **
$250/$240 **
Room
$125
$175
$240
Rates do not include 15% HST (Harmonized Sales Tax)
Call  Mary at (902) 661-4800 to book or for more information.