The Amherst Shore Country Inn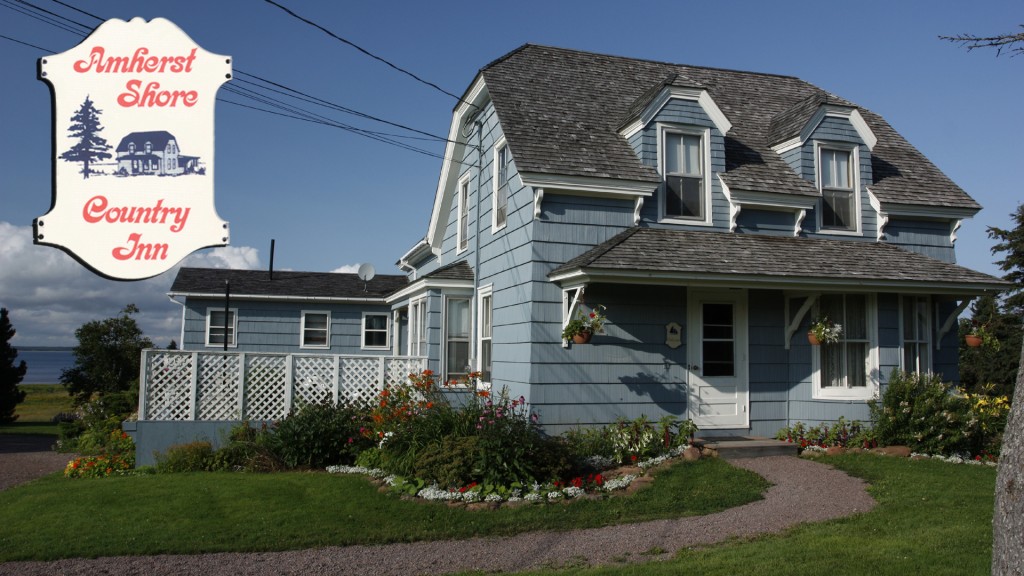 The Amherst Shore Country Inn is located near the town of Amherst in Lorneville, Nova Scotia.
Set on a oceanfront knoll along the shore of the Northumberland Strait the inn boasts a spectacular sea view and a private beach park like setting.  Operated by the Laceby family since 1980 it is a true Nova Scotia Country Inn.
Experience the historic charms of a century old farmhouse, the modern conveniences of today, outstanding culinary experiences, walks on the expanse of sand flats at low tide and of course professional but relaxed hospitality.
---
When we are Open
 

| | | |
| --- | --- | --- |
| May 1st -October 31         | November | December – April |
| Open every day. | Closed | Open Friday and Saturday evenings. |
*** Midweek and Long Term Chalet rentals are also available through the off season,…***
*** Call (902) 661-4800 for more information ***
---
Accommodations at the Inn include four chalets, two suites and two guest rooms, all with in room phone, WiFi, LCD TV,  and air conditioning.  They are each individually uniquely furnished and decorated , have a bathroom ensuite, and a panoramic view of the grounds, the Northumberland Strait, and New Brunswick beyond.  More,…
The Inn also has three cottages for rent. The Inn Cottage located just down the driveway from the Inn, and two historic seaside cottages, the Ketchum Cottage and the CMTR Cottage located about two miles from the Inn near Tidnish Dock Provincial Park.
---
Fine dining is a hallmark of the Amherst Shore Country Inn and fresh Nova Scotia fare is its specialty. The menu changes every evening, and there's always fresh homemade bread and a selection of quality wines, beers and spirits. These four course-gourmet dinners are served every night at 7:30 p.m. (by advance reservation only). Cocktails start at 6:45 p.m.  The dining room has an outstanding view of field and sea.
A hearty Canadian breakfast is served daily by reservation at 8:00, 8:30, or 9:00 a.m. in the dining room for inn guests.
---
The Sitting Room
The sitting room provides a place to enjoy a cocktail before dinner and mingle with other guests.  There is also a computer for guest use complete with printer.  Handy for those who don't have a WiFi device or those would like to print a boarding pass.
---
The Grounds and Views
Enjoy outstanding ocean views.  Then explore 20 acres of lawns, gardens, pond, meadows and of course the beach.  Safely walk for miles on exposed sand flats at low tide and wade or swim in warm ocean water during the summer months for a true coastal experience you can have right here at the inn.

click to enlarge

click to enlarge
---
Gardens
We have about 2 acres of vegetable gardens to explore which provide many fresh herbs and produce for the kitchen and dining room.

In addition there are a mixture of annual and perennial gardens to enjoy.

click to enlarge